Local company adapts production to help frontline workers, employees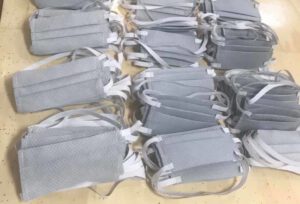 ST. CLAIR SHORES — In business since 1959, Rob Kotowski said that the Lake Shore Boat Top Company had never had to lay off an employee until March 23, 2020.
"When the Governor gave us the executive order that our business was going to be deemed nonessential, I felt a sense of panic, as I'm sure most Michigan business owners did," said Kotowski, the president and owner of the company. "I didn't want to lose my people."
This is typically the company's busy season as boaters get their craft ready for the water. But while the company's main business is marine fabrication, creating custom marine boat tops, canvas yacht enclosures, marine upholstery and more, Kotowski said that the COVID-19 pandemic forced him to consider ways that his company could help, and ways that he could keep his staff of 12 employed at the same time.
"I thought maybe the PPE (personal protection equipment) industry, for us, could be something we could provide," he said.
After gauging interest on the company's Facebook page, Kotowski said he was able to recall every employee who was still interested in and able to work.
Now, Lake Shore Boat Top Company, 24601 Jefferson Ave., is fabricating surgical style facial masks, clear facial shields and protective counter barriers for checkout clerks. The company is supplying the state of Michigan with an average of 4,500 facial masks per week, and has built counter shields for Nino Salvaggio's grocery stores, Genesis Chevrolet and Ray Laethem GMC and Chrysler. The dealerships are installing the shields in their sales office rooms and service departments.
The surgical masks, he said, are going to local healthcare workers, hospitals and anyone else locally, or across the country, in need of the masks.
"We're willing to help out people who need one or two, or people who need 4,000," he said. "We're really not limiting it. We're trying to get it out to the people who need them."
While the company is selling the equipment to be able to offset operating costs, Kotowski said that he's also trying to help those in need, such as those looking for masks to be able to hold a small funeral for a loved one. When he gets requests like that, he said, he just donates the masks.
"We're trying our best to make the best of everything here and try to help everybody locally, as well," he said.
Employees have offered to take on different jobs in order to make the switch in production.
"We take a lot of pride in what we do for this community. It was just a great feeling to be able to let our staff know," he said. "When they had the opportunity to come back, they were ready to go."