IFAI Member Stories – Love What You Do
Rob Kotowski just can't stay away from water. Like his dad, who bought the family's Lake Shore Boat Top Co. in 1971, he grew up near water—both frozen and liquid. It keeps him busy year-round, working on boats in the summer and coaching high school hockey in the winter.
"As a kid, I just grew up in the shop instead of having a babysitter," he says. "My dad had it going for years. I just started cutting facings and assisted with patterning on covers. I didn't know if I'd do it forever, but at least through college it wasn't a job. It was fun."
His dad, Bob Kotowski, still works at the office at age 71. "He introduced the industry to me and now we work together, and I'm grateful for everything he has taught me."
Before the elder Kotowski bought the shop, which was originally founded in 1959, he'd worked as a tool and die maker. When that came to an end, his youthful water-orientation took over. "I think he was just kind of a self-starter," Rob says. "He took a risk and purchased the business with all of 40 hours of training. But he always had the phone number of the previous owner handy if he had to ask questions. It was a pretty big risk but turned out to be pretty rewarding, too.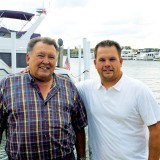 Robert Kotowski, left, and son Rob have been virtually lifetime partners at Detroit's Lake Shore Boat Top Co. Rob says he "grew up in the shop."
Like father, like son
Rob, 33, went to college to study business management, which comes in handy in every aspect of owning Lake Shore Boat Top. His wife, Jessica, is a mechanical engineer working for the Oskhosh Corp., and they have a nine-month-old daughter, Ava.
"I was always a little entrepreneur myself," he says, explaining that when he was a kid he started a small sports-memorabilia business—one that's also still going today. "I always kind of liked being my own boss." He specializes in "game-used items" and autographs of major-league sports figures.
Kotowski says his business now is focused around the marine industry, including design and manufacture of canvas, upholstery, carpet and interior work. He does some awning work and dabbles in commercial upholstery for nursing homes and hospitals, as well.
For more than 16 years he's also managed to carve out time to work with a high school boys' varsity hockey team, located on the western edge of Lake St. Clair, 17 miles north of downtown Detroit.
"I enjoy giving back and teaching the kids the game that has been a part of my life for so long," the proud coach says.
In addition to his IFAI membership, Kotowski also belongs to the Marine Fabricators Association, from which his shop has won several awards, most recently a 2014 Outstanding Achievement Award. He said he gets to most MFA national conventions and tries to get to IFAI's Specialty Fabrics Expo every other year.
"We attend to look at new fabrics, technology and vendors," he says. "It helps to keep our shop up-to-date, and winning the awards is a great marketing opportunity for our company. It makes our customers feel good about who they're working with. And the networking; we're just a phone call away with any questions we might have about fabrics or how to work with them. The people in Minnesota at IFAI have been great, and they have access to a large audience from which to get advice and help."
And if he really gets in a jam, those Minnesotans might also offer some hockey advice.